Monthly Archives:
August 2012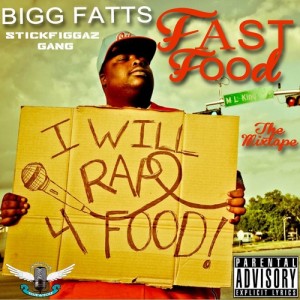 Bigg Fatts grew up on the south side of Houston, Texas where courage and toughness are necessities of life and are tested daily. As a young man he knew he had to have a high level of aggressiveness if he wanted to be successful or even survive so he evolved into a fast-paced, charismatic street kid who could make you hand over your last dollar and laugh while doing it. This is the man he had to be. This is what his music is. This is Fatts.
"I got into music at a young age (middle school). From the jump I knew I was clever and had a unique ability to get people to like what I was saying. I was inspired by local Houston artist like Lil Keke, Fat Pat and Hawk. I wanted to be the "freestyle king". Once I got to high school I started listening to other artist such as Jay Z, Outkast, Biggie smalls, Big L, T.I., and Lil Wayne."
After the untimely death of one of his best friends Corey Mitchell (Big Corey), Fatts decided to get serious with rap and started to write his rhymes instead of just free styling. The result was a hardcore street mixtape named "Mash Mode". "Due to my underworld ties the cd took popularity early but at the time I was living the lifestyle of a rapper instead of actually being one. I was distracted by drinking, smoking and selling dope. I was focused on the quick money more than the dream." The mixtape turned into a classic tape but without the marketing and promoting behind it "Mash Mode" faded into a hood success.
The first mixtape did enough to generate a demand for Fatts blazing tracks and the hood began asking him for a round two. They needed more music, more wise cracks, more Fatts. As a man who wanted to appease his fans he put out a rushed project entitled "Food for Thought". "To be honest Food for Thought was a street disappointment because I made it for the wrong reasons. It was made in me trying to please other people and not focusing on the music." "Food for Thought" sold 250 copies.
After releasing a mixtape that Fatts viewed as a disappointment he left rap alone and concentrated on living a regular life in the hood. He setup a trap house and started doing his thing in the streets. It wasn't until his best friend Big Bari went to jail on a drug case that Fatts realized he had a special gift and he owed it to himself and the world to use it. His passion for rap was further renewed when he met two young producers, Abstrakk and Another Excuse. "They made music that I loved and that brought out the best in me. It was easy for me to lock the doors, cut off the phone and forty tracks later I had the "Fast Food for Thought" mixtape."
When asked what does he live for Bigg Fatts made it very clear. "Since day one I've had people telling me what I can't do, shouldn't do, and what I would and wouldn't amount to. I live to prove those people wrong. I also live so that my nephew will never have to hear people telling him what he can't do. I don't want him to experience the hardships of living in poverty without adequate education or without a road map on how to get out of his own "hell".
Fatts newest project Fast Food is hitting the streets the summer of 2012. The public better be prepared for this aggressive but funny man on a mission to feed the streets with his new music.